Abu Sayyaf leader killed in Bohol clash
Terrorists group clashes with Philippine security forces in Bohol town; at least ten dead.
INABANGA, BOHOL — Clearing operations are ongoing in Barangay Napo, following a firefight between suspected members of the Abu Sayyaf Group and Philippine security forces composed of members of the Philippine National Police and the Armed Forces of the Philippines.
The government's side lost three soldiers and a policeman in the fight that began in the morning of 11 April 2017 in one of the key tourism spots of the country.

Five members—one female, four males—of the suspected ASG were slain in the firefight. Among the casualties was Muammar Askali, a.k.a. Abu Rami, a sub-leader of the terrorist group who has also served as its spokesperson.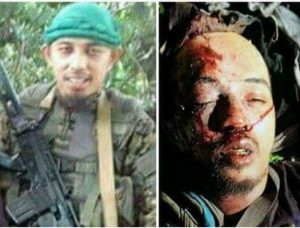 AFP Chief of Staff cited Abu Rami as responsible for several kidnappings involving foreign tourists—the most notorious among them was the 2015 snatching of two Canadians, a Norwegian, and a Filipina from Samal Island. The two Canadians were beheaded last year following the government's refusal to pay ransom; the rest of the hostages were released unharmed.
Among the items recovered from the militants were four high-powered firearms with defaced serial numbers; 81mm mortar rounds;  rifle grenade launchers; ten mobile phones with one touchscreen unit;  a Go Pro video camera, a handheld radio and its charger; three junkong-type pump boats with two engines each; and two motorcycles.
Five more members of the terrorist group are at large following the firefight; government security forces are in pursuit.
Bohol Mayor Roygue Jumamoy reported yesterday that "three pump boats of heavily-armed men 'from Mindanao' were cornered in Inabanga River," estimating the number of suspected ASG members at at least ten. Sources attested seeing boats leave Sulu, bound for the Visayas. The ASG had also been sighted upon their arrival by residents, and subsequently reported to the authorities, the day before the clash.

The presence of mortar rounds indicate that the militants are not only for kidnapping but for bombing mission in the province.